Daniel Castillo Hidalgo participates in a publication with César Ducruet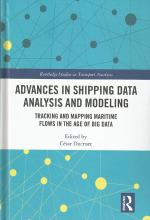 22 de diciembre de 2017
Share in social networks: 


Daniel Castillo Hidalgo has just published a joint chapter with César Ducruet on the evolution of maritime transport networks in Northwest Africa from 1880 to 1972. This book, edited by César Ducruet  and published by Routledge ( Advances in Shipping Data Analysis and Modeling. Tracking and Mapping Maritime Flows in the Age of Big Data) is the main output of a meeting hold in Paris in 2015 where Castillo participated. This meeting was celebrated on the context of the World Seastems project, granted by the European Research Council (2013-2018).
In this chapter, Castillo and Ducruet analyze the functioning of regional port networks in the long run. This topic forms part of their both research axis. It is expected that this book will be a reference on the international studies of seaborne transport in the next years.
Daniel Castillo Hidalgo is postdoctoral researcher at Research Institute of Text Analysis and Applications (Division of Documentation, Heritage and Atlantic History).