"The Greco-Latin origins of what they tell us about the La Palma volcano" by Elena Curbelo and Alexis Moreno in The Conversation.
Friday, 24 September, 2021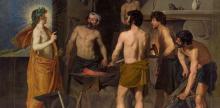 Doctors Elena Curbelo Tavío and Alexis Moreno García, members of the University Institute for Textual Analysis and Applications (IATEXT), have published in The Conversation "The Greco-Latin origins of what they tell us about the La Palma volcano". In this article they link the volcanic eruption that has taken place on the Canary Island with the classical languages ​​by presenting a small glossary in which they present an etymological analysis of some scientific terms related to volcanology that help us to better understand its origin and its Greco-Latin past..
Full article on The Conversation..
The Conversation Spain is the main channel for the dissemination of knowledge emanating from universities. The ULPGC joined this platform in February 2020, as sponsored by the CRUE-Spanish Universities..
The Conversation has editions in the United States, United Kingdom, Canada, France, Indonesia and Africa, in addition to the Spanish edition, which was launched in the summer of 2018 and in just over a year has achieved more than 20 million readings thanks to the republication of the articles in 170 media. All articles published in The Conversation can be re-published, in printed or digital form, without being edited, ensuring that it is attributed to its author, its reference institution (university or research center), and mentioning that the article was originally posted on the platform..